Join Our Ridgecrest Summer Staff
Are you looking for a paid summer job where you can serve at an incredible place with amazing people who desire to see lives impacted for God's glory? We are looking for college-age young adults who have an authentic and growing relationship with Jesus to serve alongside us this summer.
Ridgecrest Conference Center has the privilege of serving over 30,000 guests from all over the country between the months of May and August! We offer opportunities to learn and develop skills that are useful in future careers and everyday life. Through training and hands-on experiences, you will learn about the responsibilities and rewards that come with a variety of work roles.
In addition to your pay, you will receive meals and shared, dorm-style housing, plus a chance to meet new friends and make connections. Your spiritual walk will be strengthened and challenged as you perform your job duties and through small-group interaction and fellowship. Summer Staffers will also attend weekly chapel services, participate in planned activities, serve together and have free time to enjoy God's creation. 
Come and be a part of our Ridgecrest Summer Staff Program. It is more than just a job—it will transform your life.  If you would like more information, email: sophia.peterson@ridgecrestnc.com.
If you would like to apply for summer staff at Ridgecrest, click the blue button below!
Testimonials from Summer Staffers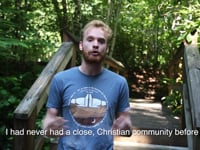 Adam's Summer Staff Testimonial
01:16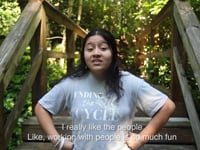 Jennifer's Summer Staff Testimonial
00:51
Jared's Summer Staff Testimonial
00:47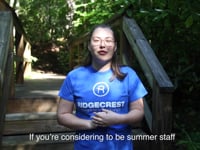 Grace's Summer Staff Testimonial
00:33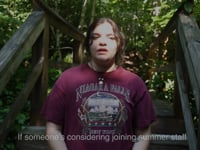 Hannah's Summer Staff Testimonial
00:53
I looked at the mountains, and they were quaking; all the hills shook.